The ASMIRT-NZIMRT combined Conference runs from Friday 4 to Monday 7 June 2021 – this event is now named Re-vision.
REGISTER NOW
Did you miss the ASMIRT-NZIMRT online conference?
Conference registrants can access the released presentations at no cost as part of their registration, just log back into the OnAIR portal to view here.
Accessible recording are made available until 7 June 2022
New registrants are welcome. You can register to view all the releasable Conference recordings – register here.
Your CPD hours are sorted!
Member Discounted Price: $495 inc GST
Full Registration: $695 inc GST
Register to hear recordings and view Q&A sessions from a broad range of speakers on several streams of concurrent scientific and non-scientific sessions from engaging invited speakers and also featuring interactive workshops.
Use this special code –  SAVE50  –  to receive a $50 discount on your registration. Available to the first 100 registrants.
You will make great savings on your ASMIRT-NZIMRT 2021 registration as an ASMIRT member and by joining ASMIRT or NZIMRT now you can take advantage of this saving immediately. ASMIRT membership is open to both students and qualified MRS professionals. The price of your membership will be calculated pro-rata for the ASMIRT year of 1 July – 30 June, There is no joining fee for MRS students. New Zealand registrants can join as members of NZIMRT here
Student registration – At the time of registration you must be a student currently enrolled in an undergraduate or Graduate Entry Masters (GEM) MRS program. This includes honours students.
Please note that this postponement will be an equivalent replacement for the planned event originally scheduled for 14-17 May 2020. Registrations which have already been booked will be valid for the new dates for the online ASMIRT-NZIMRT conference. For questions regarding your registration, vist our FAQs page or contact conferences@asmirt.org.
For any questions regarding registrations, please email conferences@asmirt.org
Pricing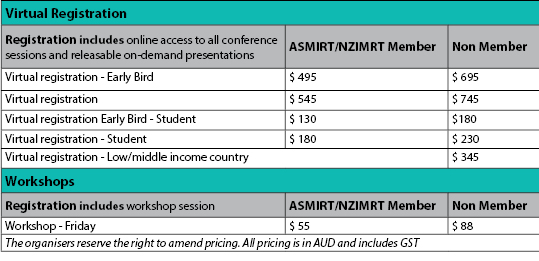 The World Bank categorises countries of the world according to economy level from high to low.
Special pricing has been negotiated for our guests from low and middle income countries (this includes lower middle and upper middle). Please refer to the World Bank category listing to confirm your classification.
DOWNLOAD LIST