Postponement information: ASMIRT-NZIMRT 2020 Conference
As all medical radiation practitioners are no doubt aware, we are in the midst of an expanding global coronavirus (COVID-19) outbreak, which has now been categorised as a pandemic by the WHO. ASMIRT and NZIMRT extends their support to all those who have been affected by the outbreak to date – either directly or indirectly.
With respect to the ASMIRT-NZIMRT 2020 conference, participant and wider community health and safety is of utmost importance to us, so we are ensuring that we are taking all necessary precautions regarding COVID-19.
As a result, ASMIRT-NZIMRT 2020 has been postponed.
We are currently working with the conference venue, the Melbourne Convention Exhibition Centre (MCEC), to secure another date for this event. We expect an announcement to be made on this within the next two weeks.
Please note that this postponement will be an equivalent replacement for the planned event originally scheduled for 14-17 May 2020.
Registrations which have already been booked will be valid for the new, soon to be determined, date for the ASMIRT-NZIMRT conference. For those who have registered and are unable to attend the rescheduled event, refunds will be available. More information on how to access a refund will be available in the near future.
We are confident that we will soon be able to announce a new date for the conference in Melbourne. We understand that you need this information as soon as possible so you can change your travel plans. If you have booked your accommodation through us / InHouse Event Solutions when you registered, you will be eligible for a full refund on accommodation deposits / payments. More information on how to access a refund for accommodation or move your accommodation booking to the new conference dates can be found here.
ASMIRT and NZIMRT would like to express our sincere thanks to our participants, sponsors and exhibitors for your understanding, support and flexibility.
EARLY BIRD REGISTRATIONS ARE REMAINING OPEN for the foreseeble future and will be valid for the rescheduled Conference
You will save up to $500 on your ASMIRT-NZIMRT 2020 registration as an ASMIRT member and by joining ASMIRT now you can take advantage of this saving immediately.
ASMIRT membership is open to both students and qualified MRS professionals. Prices below are pro-rata for the ASMIRT year of 1 July – 30 June and include the joining fee. Join when registering, price savings are listed below and you can view the benefits of membership on our website
New Zealand registrants can join as members of NZIMRT here
Student registration – At the time of registration you must be a student currently enrolled in an undergraduate or Graduate Entry Masters (GEM) MRS program. This includes honours students. Student membership year runs from 1 January – 31 December.
For any questions regarding registrations, please email conferences@asmirt.org
Download the ASMIRT-NZIMRT 2021 – FAQs 
Pricing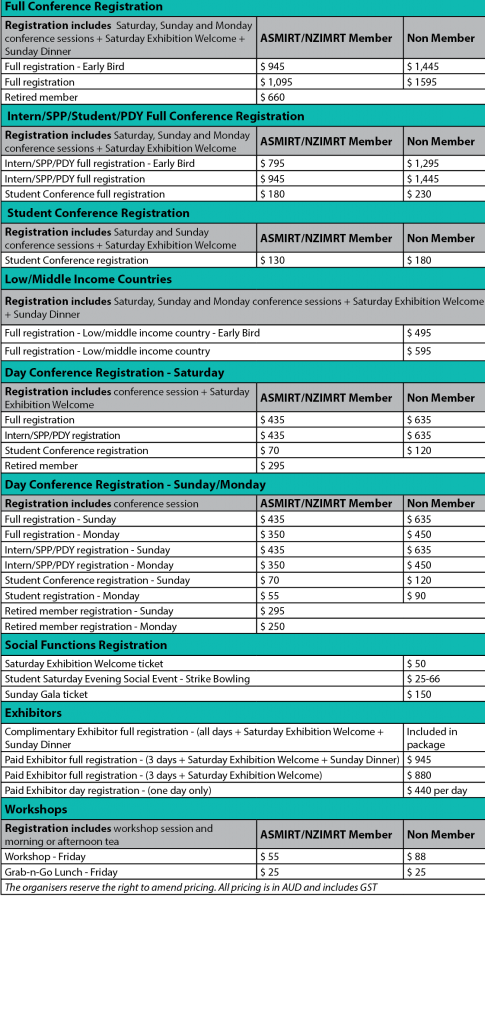 Save on your Conference registration by becoming a member of ASMIRT. You can join when registering, the cost of membership is listed pro-rata below.

The World Bank categorises countries of the world according to economy level from high to low.
Special pricing has been negotiated for our guests from low and middle income countries (this includes lower middle and upper middle). Please refer to the World Bank category listing to confirm your classification.
DOWNLOAD LIST