The Victorian Branch of the Australian Society of Medical Imaging and Radiation Therapy (ASMIRT), along with our colleagues from the New Zealand Institute of Medical Radiation Technology (NZIMRT) warmly welcome delegates for the 4th combined ASMIRT-NZIMRT conference, to be held online from Friday 4 June to Monday 7 June 2021 and is named Re-vision.
The theme of "Vision" offers a broad range of options and for us, a focus of innovation, imagination and ideas. Our mission statement is to deliver a conference that provides high quality content and delivery of presentations. We also have a focus on presentations that introduce new and emerging technologies and techniques and clinically applicable content, with online opportunities for delegates to gather and network.
We look forward to showcasing our talented presenters and providing a conference that embraces the vision of all who attend.
Wondering what ASMIRT-NZIMRT 2021 is going to be like? Watch this video of the ASMIRT/AACRT 2019 Conference.
What will the online offering look like?
ASMIRT and NZIMRT are excited to be offering our first virtual conference.
Join us online to experience the 200+ oral presentations, 175+ presenters, earn 65+ CPD hours, engage with fellow colleagues and sponsors, and much more.
Importantly, our immersive 3D virtual platform offers the ability to take notes on sessions, facilitate meetings and discussion forums, and virtual delegates will all be able to submit questions to the speakers via the session chair live.
The platform also allows for virtual delegates to interact and participate in all aspects of the conference including access to exhibitors, networking groups, posters and more. It encourages interactive engagement with the session topics with audience polling, trivia questions, competitions and games.
Everyone can get involved with our Discussion Forums which includes a live chat feature, and attendees can interact with each other during a session in a secure virtual environment – so jump in and stay engaged! There's also a meeting hub where attendees can connect with friends and colleagues also attending and request to connect, start up a conversation via text, video call or messenger or schedule a meeting which will then be added to your timeline.
All attendees will have access to the releasable conference recordings, on demand after the event.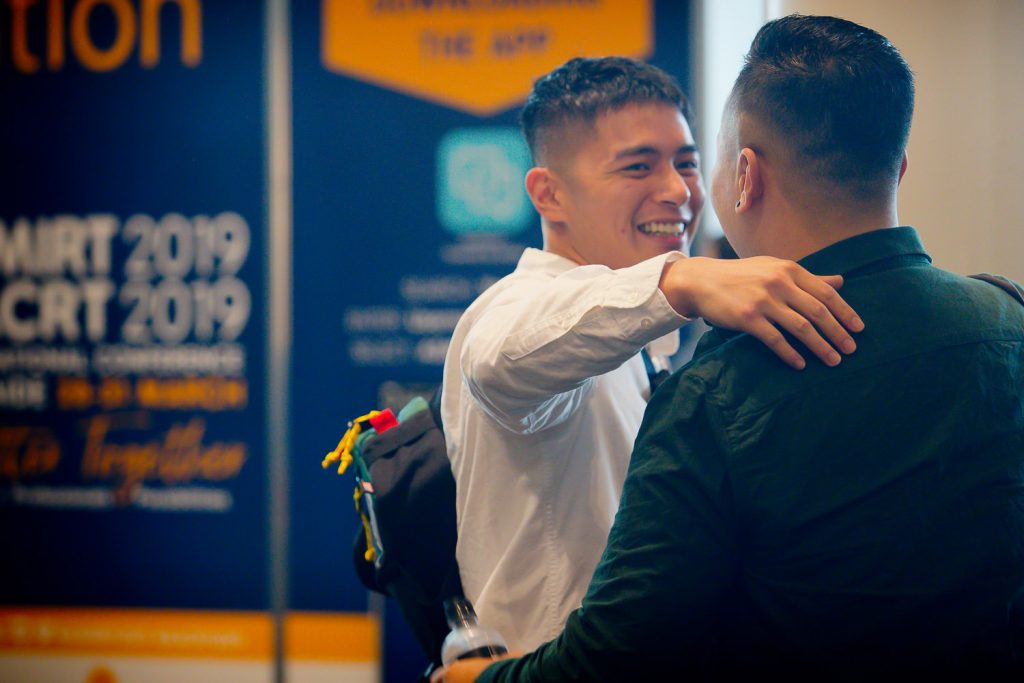 Speakers
Hear from some of the most influential voices in medical imaging and radiation therapy.
Community
Make connections that will carry you through 2021 and beyond. Join hundreds of like-minded professionals from Australia, New Zealand and around the globe. Time is put aside for several networking and social sessions at the Conference to maximise your opportunities to make friends and meet others with similar interests. You can also filter for like-minded professionals and connect with friends and colleagues via the Virtual platform.
Join us for ASMIRT-NZIMRT 2021 Conference – Re-Vision
Make Your Case
Need help presenting the benefits of ASMIRT-NZIMRT 2021 to your boss? Use our templates to gain approval and showcase to your employer the costs and benefits for attending.
Submit an abstract
Abstract submissions are currently closed for this conference.
Talking points
So, you want to come to ASMIRT-NZIMRT 2021 as you know it's going to have the right mix of technical sessions, workshops, exhibitors and social networking. Now it's time to convince your supervisor to provide professional and financial support for you to attend. We can help. Here are some suggestions on how to get your request approved:
Details: Give your employer the relevant details. Review the program and outline for your supervisor the sessions that would be beneficial to your professional growth and to the organisation. Create a list of short and long-term goals and find the sessions that would help you achieve them. Review the list of workplaces and titles of previous attendees and explain the kinds of connections and relationships you will be making at the event and how they will benefit your organisation.
Reasons to attend: Bolster your request by explaining top reasons you should attend ASMIRT-NZIMRT 2021 Re-Vision
Networking. Relationships, including online connection opportunities, are imperative in the MRS professions. ASMIRT-NZIMRT 2021 Re-Vision consistently brings together top thought leaders and key influencers that you can connect with to gain insight and collaborate.
Education. Attending ASMIRT-NZIMRT 2021 Re-Vision will allow you to learn more about the industry and latest innovations. You can take the knowledge you gain and invest it back in your career and the company.
Representation. You can represent your organisation and return with contacts of individuals and vendors who you can collaborate and work with in the future. You will provide your department with key learning outcomes and share what you've learned.
Still need help? See below for what past attendees have said and use our email template to explain the above benefits to your employer, you can also contact conferences@asmirt.org.
The food was fantastic and I loved the entertainment at both events, the bands were amazing!
The student conference was excellent and well organised. It was a good chance to hear about my future career pathways and get to know students from other places.
This conference exceeded all my expectations, I have come away invigorated and will recommend (rant) to any MRTs in MZ back in NZ who will listen to come next year!!
Excellent international key note speakers, they were of high quality and the information they provided was topical and engaging. Especially enjoyed presentations by Justin Pigg and Luke Oakden-Raynor.
Absolutely one of the best conferences I have ever been to. I loved that you can chose a talk that interests you out of five or six options. I also liked how some were combined so you get an understanding of the other sides needs and wants
This conference was a healing one for me as I'd not been for over a decade. I caught up with some really beautiful people who shared info from the past that has helped me to a brighter future.
Person centred care and the patient stories were very powerful! I really enjoyed these sessions
Abstract submissions reopen
Speaker Registration Deadline
Abstracts submissions close
Registrations for Online Attendance open
Early Bird Registration Closes
Conference – including Pre-Conference Workshops
Can't find the answer? Then contact us.
Suite 1040-1044, Level 10, 1 Queens Road, Melbourne Vic 3004
General FAQs
Registration FAQs
Workshop FAQs
Speaker/Presenter FAQs
Accommodation FAQs